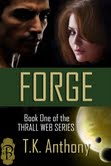 Warned by a Seeing…The high king of the Scotian Realm expects the arrival of an enemy, a race of psychic predators bent on galactic conquest. The Realm's one hope is alliance with the neighboring star domains in defense of a shared colony, Forge.
Caught in Fate's grim weaving…Mindblind, amnesic, Tazhret lives out his drug-induced visions of servitude on Forge. He wants to believe the beautiful woman with the nut-brown hair who whispers reassurances to his harrowed heart: "You have a name." But is she even real? Or just one bright thread in his dark dreams?
An unexpected hope…Tazhret's destiny leads him to freedom and the woman he yearns for —and to a desperate struggle against the enemy. Tazhret can save Forge, and the clan of his beloved. But only at the cost of all he has hoped for: his name, his freedom, and his love for the woman with the nut-brown hair…
Forge: Book I of the Thrall Web Series
Now available from Decadent Publishing
~~~Excerpt~~~
Clenched in the grip of a fateful vision, the black web of Tazhret's nightmare suffocated him, paralyzed him. While his heart pounded in terrified denial, the ensnaring net grew dense, and tight, cutting off all light, all sound…every breath of air. The nightmare shifted, and the web became chains, chains of red fire burning into his skin, binding him, crushing him in nameless enslavement to an evil will while his soul cried for freedom.
One thread of light, an answer to a desperate prayer, shone in Fate's grim weaving of a dark future.
She was beautiful. She gazed at him, her luminous amber eyes sorrowful in a pale face framed by dark hair. She insisted against all evidence, You have a name. A good one.
He knew he loved her. His heart ached for her.
He wondered who she was.