Coming soon…
December 9, 2014
Guest Post: PhilCon 2014
Science Fiction Romance Brigade
Where I Was….
December 8, 2014
Author interview here in the Realm with
Award-winning SF romance author Pippa Jay
December 1, 2014
Meet the Author interview
Science Fiction Romance Brigade
November 21-23, 2014
Crowne Plaze Hotel, Cherry Hill, NJ
I'll be at Philcon! Just as an attendee, but still…
November 10-11th, 2014
Guest post and book review at goodbookalert.blogspot.com
May 2, 2013
Daily Dose of Decadence Blog
March 20-23, 2013
"Rites of Spring Blog Hop"
 Looking for a great read to liven up the last chilly nights, or maybe take to the beach? Don't settle for just one. Get acquainted with lots of new authors and win prizes!
First prize: Kindle Fire
Second prize: $50 Amazon Gift Card
ScotianRealm.com prize: $10 Gift Card
Plus...prizes offered by participating authors!

March 19, 2013
Catch me on Daily Dose of Decadent's blog for "Ten Fun Facts about T.K. Anthony"
February 23, 2013
Check out a snippet of FORGE on SFR Brigade Presents…
January 18, 2013
I'll be at author Leanne Dyck's blog for an interview. While you're there, check out her knitting patterns and insights!
January 21, 2013
Guest blog appearance at Decadent Publishing. Topic: TBD!
December 26, 2012
Merry Christmas, and happy holidays! I'm blogging over at Decadent Publishing. Need an escape from hectic times? What you need is a big fat book that takes you half a galaxy and a thousand years away: Forge.
October 1-12, 2012 — Blog Tour & Giveaway!
I'm very excited to announce my first-ever blog tour! During the first two weeks in October, I'll be appearing for on eight different blogs for interviews, a guest blog, reviews, and a spotlight…and, at every stop, you'll have a chance to win one of Decadent Publishing's other e-books in the format of your choice. As part of the celebration, you'll also have a chance to win a $20 e-certificate from Amazon at the end of the tour. I hope to see you along the way on this cyber-journey…and good luck!
10/1  — Interview @ Simply Ali
10/2  — Interview @ Books'n'Kisses
10/4 — Guest blog @ Jacob's Book Reviews
10/4  — Interview @ Bonnie Bliss
10/5  — Review @ Melissa Kendall
10/9 —  Interview & Review @ Reading Reality
10/10 —  Spotlight @ New Age Mama
10/11 — Interview @ Backwards Momentum
10/12 — Interview @ You Gotta Read

August 10, 2012
Join me on Kary Rader's blog for an author's interview. Your comment on this website enters you in a drawing for a free ebook of "Forge" in the format of your choice!
http://www.karyrader.com/2012/08/09/t-k-anthony-and-her-new-release-forge/
June 22, 2012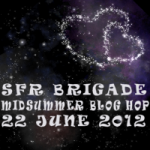 SFR Brigade Midsummer Blog Hop
Stop by here at the Scotian Realm as part of your tour of 30+ science fiction/romance authors' websites. We'll all have something to say about Midsummer, and your comments on our websites will enter you into a random drawing for a Kindle Touch or Nook Touch and other great prizes!
9pm EST, 5/2/12 -The Romance Studio Chat
Decadent Sci/Fi Author's Chat
Join me and other Decadent authors here for my debut appearance as an author!
(I know I should be cool about this, but I prefer enthusiasm.)
http://theromancestudio.com/chat.php
IMPORTANT – Chats at held at TRS may contain mature content and language and are strictly for those 18 years of age and older ONLY! By entering the chat, you are stating that you are of appropriate age and agree that you accept such mature content and agree to hold harmless TRS, its staff, any members or affiliates, chat participants and others with ties to the site harmless.