So excited to announce Pippa Jay's Keir will soon be available again. Here's the awesome cover: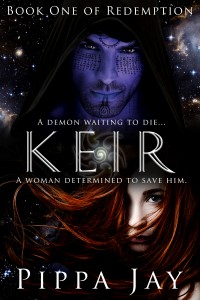 A demon waiting to die…
An outcast reviled for his discolored skin and rumors of black magic, Keirlan de Corizi sees no hope for redemption. Imprisoned beneath the palace that was once his home, the legendary 'Blue Demon of Adalucian' waits for death to finally free him of his curse. But salvation comes in an unexpected guise.

A woman determined to save him…
Able to cross space and time with a wave of her hand, Tarquin Secker has spent eternity on a hopeless quest. Drawn by a compulsion she can't explain, she risks her apparent immortality to save Keir, and offers him sanctuary on her home-world, Lyagnius. But Quin has secrets of her own.
When Keir mistakenly unleashes the dormant alien powers within him and earns exile from Lyagnius, Quin chooses to stand by him. Can he master his newfound abilities in time to save Quin from the darkness that seeks to possess her?
Keir is Book One of the Redemption series and part of the Travellers Universe. Previously released by Lyrical Press Inc. 7th May 2012 and an SFR Galaxy Award for SciFi Romance for Best May-December Romance (2012), Aspen Gold Readers Choice Award 3rd place finalist (2013), Readers' Favorite International Book Award finalist(2012), The Kindle Book Review's Best Indie Book Awards Nominee for Best SciFi/Fantasy (2013)
Please add it to your Goodreads shelf HERE, or sign up HERE for my no-spam newsletter for special previews on cover reveals, new releases, the latest giveaways and discounts, and upcoming news.
Meet Pippa Jay…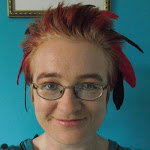 After spending twelve years working as an Analytical Chemist in a Metals and Minerals laboratory, Pippa Jay is now a stay-at-home mum who writes scifi and the supernatural. Somewhere along the way a touch of romance crept into her work and refused to leave. In between torturing her plethora of characters, she spends the odd free moment playing guitar very badly, punishing herself with freestyle street dance, and studying the Dark Side of the Force. Although happily settled in the historical town of Colchester in the UK with her husband of 21 years and three little monsters, she continues to roam the rest of the Universe in her head.
Pippa Jay is a dedicated member of the Science Fiction Romance Brigade, blogging at Spacefreighters Lounge, Adventures in Scifi, and Romancing the Genres. Her works include YA and adult stories crossing a multitude of subgenres from scifi to the paranormal, often with romance, and she's one of eight authors included in a science fiction romance anthology—Tales from the SFR Brigade. She's also a double SFR Galaxy Award winner, been a finalist in the Heart of Denver RWA Aspen Gold Contest (3rd place), the EPIC eBook awards, and the GCC RWA Silken Sands Star Awards (2nd place).
You can stalk her at her website, or at her blog, but without doubt her favorite place to hang around and chat is on Twitter as @pippajaygreen.