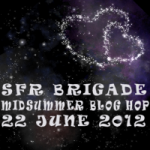 I'm looking forward to participating in the SFR Brigade's Midsummer Blog Hop on June 22nd!
What is the SFR Brigade, you ask? The SFRB is a collection of authors who write science fiction romance, where anything can happen to characters you care about…anyplace and anywhen the imagination can concoct.
In celebration of the summer solstice, on Friday 22nd June (Pacific Time) the SFR Brigade will be holding its first-ever Midsummer Blog Hop. Thirty-seven fabulous science fiction romance authors will be telling you mystical or scientific stories related to the event, and they'll each be giving away a prize – books, gift cards, swag bags…and lots more!
My addition to this prize-fest: Anyone who comments on my Midsummer Blog-Hop post on June 22nd will be entered into a drawing for a free copy of "Forge"** (in the winner's preferred electronic publishing format) and a $10 Amazon gift card.
**Remember, "Forge" doesn't come out until July 13th!

Plus there's TWO GRAND PRIZES
1st Prize – a Kindle Touch or Nook Touch
2nd Prize – a library of science fiction romance titles from more than 20 authors (mostly in ebook format, with one print anthology) and an Anabanana gift card.
To enter, visit as many blogs listed below as you want to (like mine! ;D) and leave a comment. Each time you comment at a stop, you'll earn one entry for the grand prizes–so, the more sites you visit, the greater your chances of winning.
Winners will be drawn at random on the 24th of June and announced on this site. The list of participating authors follows, below. Spread the news!