I'm not a mom. But for a couple years I took care of my two grandnieces and grandnephew. When I began they were 5, 3, and 1, and when I moved away they were 8, 6, and 4. During that time I often thought of my mom, who had recently passed. Especially in the beginning, I had a lot of doubt and second-guessing. I had no desire to wind up as the featured character in my grand-nieces' and -nephew's therapy sessions when they grew up!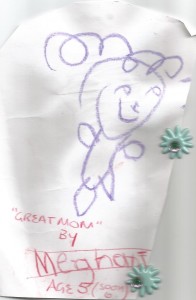 In an extreme moment of angst, I asked Mom for some kind of sign, whether I was a) doing the right thing and b) would I do a decent job of it. I don't know about other moms, but mine could read my mind. I figured if she could do it here, it would be easier for her on the Other Side of the Line. But I was still a bit surprised when, in the midst of my internal conversation with Mom, my eldest grandniece drew this picture. Struck by the drawing's light and airy feeling, I asked, "Who is that?"
"That's Great-Mom. And she's happy you're with us."
And I knew a sense of peace. Mom was smiling at me. It would be okay. As a daily reminder, I kept the drawing on my dresser mirror.
[These kinds of real-life occurrences, by the way, are why I don't dismiss ESP. My mother, and her mother had the Scots' "Second Sight"–which is why the humans of the Scotian Realm have psychic abilities!]
In honor of Mom, and all moms out there, here's my favorite "Ave Maria" by Franz Biebl, as performed by the stellar men's chorale, Chanticleer. I heard this live in the Troy Savings Bank Music Hall–one of the most acoustically perfect halls in the world. I had to grab the armrests to keep from floating away on the sheer serenity of their song. After the performance, we had a chance to meet the members of Chanticleer, and I told one of them, "When you sang the 'Ave Maria,' I could feel the planets moving." (My comment wound up in one of their newsletters!)
I hope you enjoy it…and have a very happy Mother's Day.