I've mentioned I like to travel, right? I especially like road trips because I just plain like to drive. Especially highway driving. On the open road with family.
My most recent sojourn was a trip with my Uncle Joe and two of my cousins to visit another cousin, his son/their brother. I flew to an airport along their route, they picked me up, and six hours later we were there. I drove out in a new Ford Escort, which gave me a five-minute fuel history, and might've had a button on the dash that launched warp drive. (As soon as they come out with that, I am so going to Forge!)
Before we went to my cousin's home, we went to his garage. I'm not kidding. He has some really nice cars. Classics.  So I got to sit behind the wheel of this:
a 1940 Lincoln Continental Cabriolet, one of a limited production run of 350. I dunno…I kind of think they could've stopped tinkering with dashboard design right here…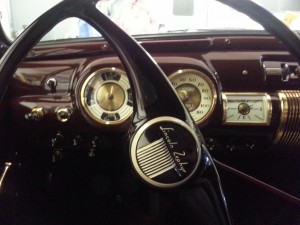 But when the rubber meets the road…as long as it's got a half-way decent ride and will get me where I'm going, I like to be behind the wheel of most anything. For those of you who feel the same way, here's a Simon & Garfunkel tune I've regarded as my personal theme song from the time I was thirteen, and within spitting distance of my driver's license. Enjoy the song, and enjoy the road!